1. NordVPN
NordVPN, one of the more popular VPN service providers, offers military-grade security and many advanced features, while it is very easy to use.
NordVPN commitment to user experience can be seen in their new Mac and Android apps that provide a unique algorithm that automatically connects to the fastest server. The product is very user friendly, offers one of the best prices on the market, has over 550 servers worldwide and is P2P friendly. One of the key features of NordVPN is zero log policy.
Here is our detailed overview of the NordVPN.
Easy to setup and use: 1-Enter your log-in details (only the first time you use the app); 2 – Press an ON button – and you're connected.
Available around the world: 700+ servers in 54 countries (US, United Kingdom, Canada, Australia, Austria, Brazil, France, Germany, Hong Kong, Iceland, Isle of Man, Israel, Italy, Japan, Liechtenstein, Lithuania, Netherlands, New Zealand, Norway, Poland, Romania, Russia, Singapore, South Africa, Spain, Sweden, Switzerland  and more)
High-Speed Infrastructure
Offers 4 Tunneling Protocols (OpenVPN, PPTP, L2TP/IPSec, IKEv2)
6 Simultaneous Connections: access NordVPN service on up to 6 devices with 1 account
Multi-Platform Service (Windows, Mac OS, iOS, Linux and Android)
Offers 2048 Bit Encryption for Certificate Authentication
30-Day Money Back Guarantee
24/7 Customer Support
Automatic Kill Switch
Custom Software Available (Windows, OS X, Android, iOS)
Free Version Available
Offers 3000+ free proxies
No refund for Bitcoin subscribers.Slow.
No session-specific information provided.
Doesn't block most ad trackers.
NordVPN is supported on almost every single platform and a variety of protocols are available for every platform.
Nord VPN offers PPTP, L2TP, OpenVPN and IKEv2 on Windows XP, Windows Vista, Windows 7, Windows 8, Windows 10 and Mac OS X. Nord VPN offers PPTP and OpenVPN for Linux users while PPTP, L2TP, OpenVPN and IKEv2 are available for iOS users (including iPhone & iPad).
NordVPN provides OpenVPN, PPTP and L2TP for Android users while Chrome OS users can benefit from Nord VPN's PPTP protocol.
Also, NordVPN does provide support for routers, if the router supports VPN connections, or has custom firmware as dd-wrt or Tomato installed.
NordVPN offers a wide selection of security protocols.
OpenVPN protocol comes with 2048 bit SSL encryption;
NordVPN's Double VPN is encrypted in double AES-256-CBC through multi-node farm;
PPTP comes with MPPE-128 encryption
L2TP/IPSec (IKEv1) protocol comes with AES-256 encryption
New to NordVPN: IKEv2 comes with a number of security and speed improvements over IKEv1, and offers built-in NAT traversal, quicker tunnel convergence times and MOBIKE to name a few.
As with most personal VPN services, NordVPN service is a free download with a subscription. The subscription costs are on the lower end compared to other VPNs.
One-month subscription costs $11.95, while an annual subscription costs only $69 (which is merely $5.75/month). All offers are "all-in-one packages," meaning that all servers are included into the package. And the change between servers is completely free and unlimited.
All packages give an unmetered access for 6 devices simultaneously. That includes smartphones, tablets, routers etc., so you get the possibility to protect your whole network or all family devices.
The company accepts credit cards, PayPal, Webmoney and Bitcoin.
Ok, Click here to Get the NordVPN special offer from Steadware.com!
NordVPN offers a 30-day money-back guarantee. There is also a three-day free trial, but you need to email or contact NordVPN's support team via live chat in order to take advantage of the offer. The three-day trial is a good opportunity to test the service before making a purchase.
2. VYPR VPN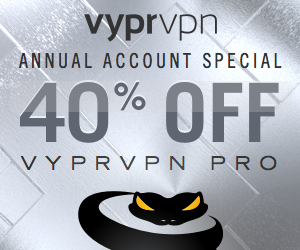 If you're not sure how to read the name of this company, it's "Viper" VPN. They probably chose this name because of their service and interface that are both slick and fast. Just like Express VPN, this provider also has a lot to offer to their users, starting with a very high level of 256-bit encryption, which sets very high standards in the sea of mediocre VPNs. There are 700+ VYPR servers, and they are located all over six continents.
With 200,000 IPs at their disposal, VYPR VPN does a great job of keeping your location and traffic concealed at all times. There are many big names using VYPR services, and one of them is Reddit, which has been their client for a few years in a row.
3. Express VPN
Express VPN is one of the most renowned VPN companies currently on the market. Through the years they've managed to keep both their clients pleased and their service on a very high level. The name of this company is often found on any list that deals with the crème-de-la-crème of VPN providers, and seeing what they have to offer, their good reputation doesn't surprise.
With this VPN on your Android device, you get a lot of high-quality features, which are most affordable if bought as a part of a yearly package. We'll name only a few to keep you interested – SSL-secured network that is combined with 256-bit encryption, providing you with an envious level of protection for all your sensitive information. What's more, this provider keeps no logs of your activities, another thing that is incredibly important to keep in mind when choosing a good VPN provider. Express VPN has their servers installed in over seventy countries worldwide – add to that unlimited speed and bandwidth with every package you get from Express VPN and it's easy to conclude that this company knows what they're doing. The average speed of connection you'll get is around 7mpbs, which is quite good.
4. ZenMate
we also find ZenMate VPN particularly interesting. ZenMate VPN is the world's leading VPN with international awards for the best security startup. They currently have more than 30 Million downloads of ZenMate VPN and are constantly growing the product range. See ZenMate


It can shield your identity online by providing Internet Privacy + Unrestricted Internet by VPN + WiFi Security.
Website trackers from banner ads, website analytics, and social media are like eyes following you around the Internet, reporting your movements back to HQ. ZenMate is like wearing a cloak of invisibility – you can go anywhere undetected.
Some websites such as streaming videos, news publications, or social media are denied to you if you're in a specific country or region. ZenMate allows you to choose your public location, and access otherwise restricted content.
When you connect to the Internet using unsecured or public wifi, anyone on the same network can sneak in and steal your information. ZenMate is your suit of armor which protects you while traveling through unfamiliar Internet.
Try ZenMate
5. Pure VPN
This is one of the providers that have managed to build a reputation in a matter of few years of their existence. They offer a few different options to their potential customers, most noticed one of them being dedicated IP address, which offers to its users another layer of security. The procedure behind dedicated IP is quite simple – you get an IP address that belongs solely to you (unlike with other IPs, which you share with other people on the server), allowing you to keep your location private even from all other users of virtual private network. Thanks to this little catch, practically every pure vpn review is very optimistic when it comes to what this provider has to give. They also have around four hundred servers all over the world and some 80,000 IP addresses, which is plenty to keep you out of sight. All things considered, Pure VPN is last, but not least of the promising Android VPN apps.